Children's Safe Harbor's
Permanent Home
Children's Safe Harbor's Forever Home.
It's not just a building, it's a gateway.
Situated on 17 acres amidst clusters of mature trees in Conroe, Texas, our new forever home will bring the lightness of hope to abused children and their families and serve as a sanctuary to the heroes that are called to protect them. The first floor will house a law enforcement area and a Conference & Training Center for community events. Embedded around the first floor is a Healing Garden.

A Place
for Healing
The second floor will be a light-filled haven, enabling children and families to tell their stories and be provided with healing and restoration through our counseling program. Family Based Safety Services workers will join our Multidisciplinary team to support parenting and education for the non-offending family members. And to support our staff and Multidisciplinary team, the second floor will have a gym and dining center.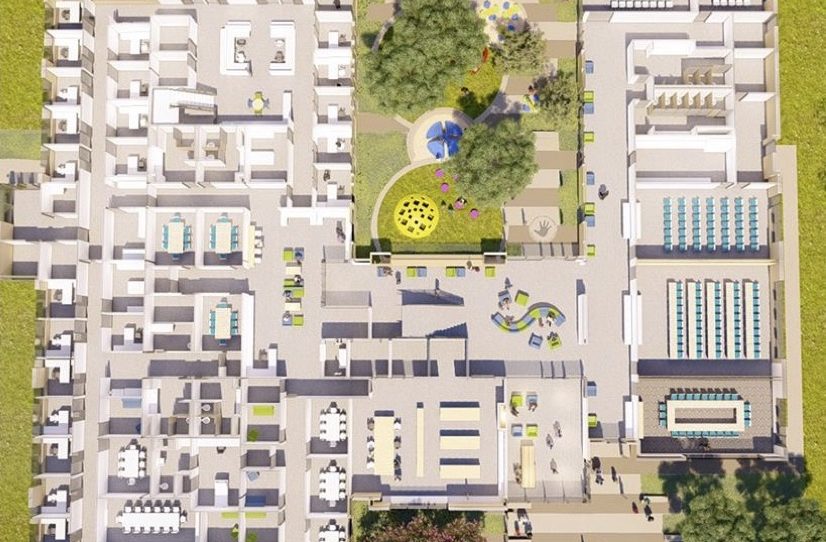 Naming Opportunities
Level 1: Forensic Interviewing, Medical, Community Outreach Services
Building – $2.5 million
Training Center – $750,000
Medical Clinic – $500,000
Healing Garden – $400,000
Observation Rooms (8) – $130,000
Forensic Interviewing Rooms (8) – $125,000 (each)
Investigative Services Waiting Room – $100,000
Rainbow Room/Community Donations Interface – $100,000
Conference Rooms (8) – $50,000 (each)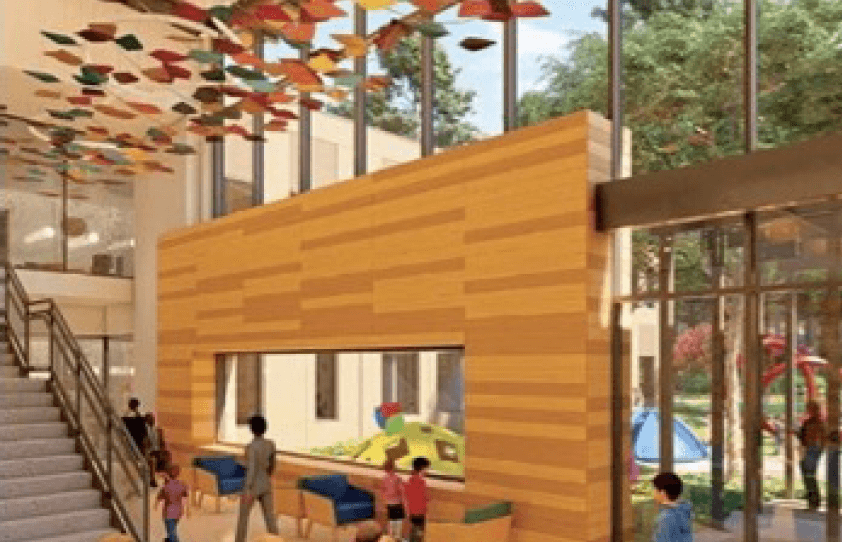 Naming Opportunities
Level 2: Counseling and Long Term Care Services
The HUB (break room and wellness/fitness area) $250,000
Individual Therapy Rooms (18) – $125,000 (each)
Therapy and Psychological Services Waiting Room – $100,000
Counseling Conference Centers (3) $50,000 (each)
Group Therapy Rooms – (2) $50,000 (each)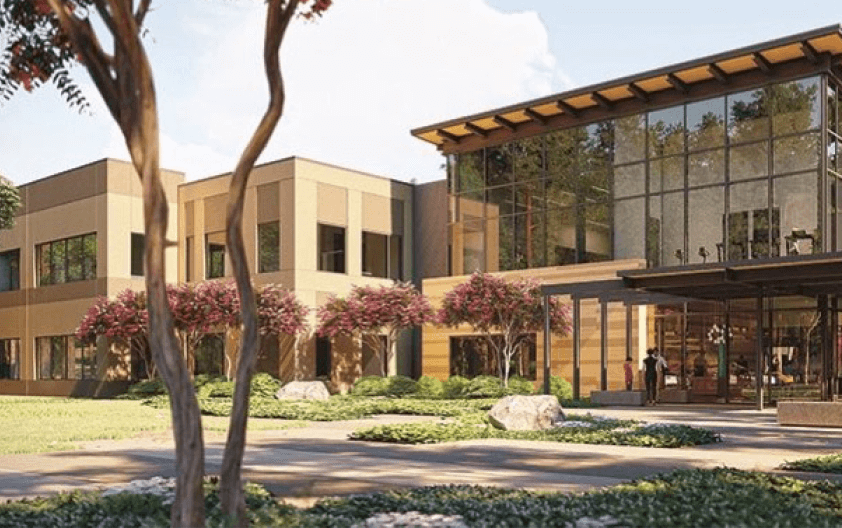 Donor Appreciation
Our Color Donors
$1,400,000
Woodforest Charitable Foundation
$1,000,000 - $500,000
Montgomery County Community Development
$500,000 - $250,000
Gary Becker & The Becker Family Foundation
$249,999 - $100,000
LP Mike Manners & Manners/Coole Foundation
$99,999 - $50,000
Anadarko Petroleum Corporation
Bakewell Family Charitable Fund
Catherine Canavan Family Fund
$49,999 - $25,000
Ardee & Sally Toppe
Arena Energy Foundation
Bryan & Mary Neskora
Byrne Medical, Inc.
Houston's Children's Charity
Kenneth & Cindy Irwin
San Jacinto County Welfare Board
Texas Children's Hospital
$24,999 - $10,000
Bruce & Marion Franke
Bruce & Karen Northcutt CB&I
C.W. & Dana Estes
Daniel & Teanna Neskora
El Paso Corporation
Gatewood Family Foundation
Glenn & Connie
Walden Greg & Robin Anderson
Howard & Helen Frank
John & Leszlie Nedelka
Keith & Wanda Odom
Michael & Michelle McLellan
Montgomery County Medical Society
Morgan Stanley Global Impact
Richie's Pharmacy Sewell Buick, Cadillac, GMC, Infiniti
Shell Oil Company
Terrence & Stephanie Sukalski
The Del Papa Family Giving Foundation
The T. Rowe Price Program for Charitable Giving
The W.T. & Louise Moran Foundation
Waterway Wealth Management Woodforest Nat. Bank
$9,999 - $5,000
Avalon Advisors
Cameron International Corporation
Consolidated Communications, Inc.
David & Teresa Bradley
Dr. Tom & Faith Casperson
First Bank of Conroe
Fred E. & Mary Ellen Castillo
Herbert & Marion Cole
Jain & Jain PC
James & Reagan Bailey
James Baine
Jarrod Portelance
Jay & Jeanne Slaymaker
Jim & Jennifer Seale
John & Christine Guidot
John & Kathleen Santini
John & Marla Frere
Katherine Croom
Law Offices of Chris Allen & Bill Patillo
Mario & Carmina Mendez
Mark & Dana Falloon
Memorial Hermann Health System
Michael McDougal, J.D.
Moran Resources Company
Nick & Laura Vanderpool
Northern Trust Bank
Peter & Andrea Fry
Randall & Alicia May
Robert Kroslowitz
Roderick & Jamice McMahon
Strike, LLC
Thomas & Mary Adams
Victoria Constance, MSPH, Ph.D
$4,999 - $2,500
Auxiliary of Conroe Regional Medical Center
Brett Ligon, Montgomery County DA
Charbonneau Industries, Inc.
Charles Joekel
Commissioner Mike & Janie Meador
Congressman Kevin Brady
Conroe New Car & Truck Dealers Association
Constable Ryan Gable
Copano Energy
Dan & Kris Williams
Darron & Angie Gill
David A. Hamilton, P.E.
Dr. Anisa Gopalani
Eli & Mary Nan Huffman, JD
Frederick & Sheryl Greene
George & Amy Sowers
Goosehead Insurance
Isaac Franke
Jeffrey & Dana Clary
John & Barbara Weber
Judge Alan B. Sadler
Keith & Deb Alexander
Kelly Seachord
Ladies Auxillary of the VFW Post 4709
Laurie Huffman
Liz Grimm Public Relations
Mae Kathleen Borchardt, MD, FACOG, OBGYN
Mario & Jennifer Santini
Mark & Christina Gram
Mark & Marissa Mettauer
Mark & Dana Falloon
Michele Till
Milstead Automotive
Montgomery & Associates
Newpark Resources, Inc.
Norman & Mary Parrish
Northwest Anesthesia & Pain Services
Patricia Williams
Pinard Home Health
Pinnacle Financial Strategies
Richard & Alison Henderson
Rob Koester
Rocktheword.org
Ron & Carol Jones
SA Services LLC
Scott & Amy Young
Scott & Vicki McShan
Sean & Darcy Kolassa
Jim & Sharon Wade
Silver Eagle Distribution
Spinal Care Chiropractic Center
Steve & Sheryl Campbell
Striping Unlimited
The Loyd Charitable Foundation
The Wolford Group
The Woodlands Township
Tim Large
Tramonte Design Studio
Tym Kelley
U.S. Pipeline, Inc.
Vince & Mary Santini
Wendy Everett
Westbound Bank
$2,499 - $1,000
9th District Court Judge Philip A. Grant
Andres & Suzanne Barrenechea
Apache Industrial
Barry & Barbara Lewis
Bart & Amy Thedinger
Blaine & Jackie Metzger
Brenda Erickson
Brent & Kris Frenchak
Brent Shook
Brian Letbetter
Brian Reese
Brian Schaulin
Brian W. Ammerman
Bryan Bleibdry
Byron & Leslie Ellis
CH2M Hill
Charles Marling
Chevron Phillips Chemical
Chris & Sondra Ruhman
Commissioner James & Lori Noack
Crowl & Associates
Daron & Silvia Smith
David Hamilton
David T. Moore
Define Body & Mind Woodlands
Dennis Millat
Dr. Dennis & Cindy Umlang
Dr. Richard & Bernadette Rivas
Dustin & Andrea Alexander
Earthwork Solutions
Ed Van & Rita Sickle
Edgar Carlson
First Continental Diversified
Fred & Janet Heyne
Gary & Debra Zoet
Grace Points Homes
Hodges Collision Center
Holly Gruy
Holly Wright
Joan C. Kuczynski
Jacque Abernathy
James Field
James Wade
Janell M. Huggins
Jeffery Meeks
Jennifer Hudson
Karen Bancroft
Kathryn Driskill
Sheila Dowell/Keller Williams Realty
Kristen Johnson
Kristy S. Sexton
Laura Marburger, PC
Law Office of Jeremy Dishongh
Lords Launchers
Louis & Christine Messina
Mardaga Orthodontics
Marsh & McLennan Agency
Matthew & Jill Frazier
North Lakes Pain Consultants
P.E. and D. S. Strom
Patrick Moran
Paul B. & Penny Requa Loyd
Randall Wisenbaker
Raymond & Carla Jones
Rex & Honey Tucker
Richard & Mary Margaret Coyle
Richard & Shirley Locke
Richland Financial Services of Texas, Inc.
Rob & Elvira Cauthen
Ross & Terri Crane
Sandstone Chiropractic Conroe
Spectrum
Stephanie Armstrong
Steve & Dana Greer
Steven & Melissa Hayes
Stewart Title of Montgomery County
Strong Firm
Tamarcy & Ruth Smith
Texas A&C
Vickie Richmond
Vintage Creek Centre
W. Scott & Lisa Huie
Waste Connections
Winstead Civic Trust
Woodlands Operating Company